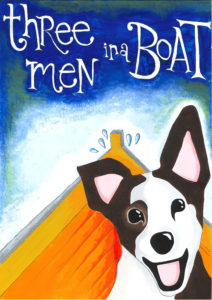 Three Men in a Boat
Touring Summer 2017
Come along on the adventure of a lifetime – well, of the Summer at least – and sail on down the River Thames with three men in a boat (to say nothing of the dog). Join Jerome, Harris, George and Montmorency from Kingston-upon-Thames to Oxford as they encounter a variety of people, places and peculiar maladies and discuss various important topics such as 'why very few people suffer from sea-sickness on land' and 'the advantages of cheese as a travelling companion'.
Following their previous summer successes with A Rip-Roaring Summer Adventure and The Wind in the Willows, IKP return with their unique brand of fast-paced, quick-witted adaptations of classic British novels with this new adaptation of Jerome K. Jerome's iconic story. Voted the 2nd funniest book of all time by Esquire and listed in The Guardian's 100 best novels, Three Men in a Boat promises to entertain and delight at a venue near you!
Three Men in a Boat is now on sale at all venues. The show will be performed at:
Wednesday 16th August: Brighton Open Air Theatre (BOAT), Brighton
Saturday 19th August: Glastonbury Abbey, Glastonbury
Sunday 20th August: Museum in the Park, Stroud
Friday 25th August: Cotswolds Discovery Centre, The Old Prison, Northleach
Saturday 26th August: Sanford Parks Lido, Cheltenham
Sunday 27th August: The Rococo Garden, Painswick
Click on the venues to find out details for each performance.
Directed by Jon Legg
J, Joe, Gardener: Michael Fay
George, Shaggy Man, Man on Train, Man in Bed: Nathan Harter
Harris, Man on Train, Officer, John Edward, Jim, Jenkins: Joe Hackett
Doctor, Pharmacist, Mrs Gippings, Lady, J's Cousin, Landlady, Passerby: Cathy Dean
Montmorency, Captain, Friend, Lady on Train, Emily, Peggy: Megan Lewis
Show image designed by Katie Hodgin