Home Page
Ian Kennedy Productions is a Gloucestershire-based Theatre Production Company aiming to create innovative and exciting drama using a company of local actors, designers and crew.
NOW ON SALE!
The Wind in the Willows
Adapted from the novel by Kenneth Grahame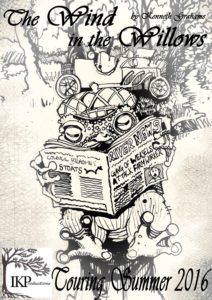 After the jolly good fun of last year's Rip-Roaring Summer Adventure, IKP are off on another escapade in the Summer of 2016. Join Ratty, Mole and Badger as they explore the Riverbank and try to contain the excitable Toad. Expect animals, adventure, swashbuckling and Motor-Cars. Beautiful, glorious, majestic Motor-Cars! For now is the Hour of Toad. Poop-poop!
Adapted from the classic novel by Kenneth Grahame, five actors play a variety of characters, animals and woodland creatures in this brilliant, hilarious and breathtaking story. With something for all the family, The Wind in the Willows is the perfect show for a Summer's Day Out.
The Wind in the Willows is now on sale at all venues. The show will be performed at:
Friday 19th August: Museum in the Park, Stroud
Saturday 20th August: Glastonbury Abbey, Glastonbury
Sunday 21st August: Winterbourne Medieval Barn, Winterbourne, Bristol
Thursday 25th August: Frampton Court, Frampton on Severn
Friday 26th August: Cotswolds Discovery Centre, The Old Prison, Northleach
Saturday 27th August: Sandford Parks Lido, Cheltenham
Sunday 28th August: The Rococo Garden, Painswick
Click on the venues to find out details for each performance.